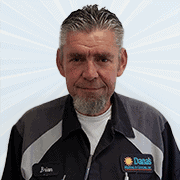 Brian
Zone Control System Maintenance in Bainbridge Island, WA, 98110
"Dana's Heating and Cooling is a great company with excellent customer service. I would highly recommend them to anyone."
- Sybil C.
Thermostat Repair in Port Orchard, WA, 98366
"I live near Manchester which has internet problems on a sometimes daily basis. Recently internet service was cut for the entire area. Our 1050 lost contact with the router and two errors were noted on the Network Status. The problem was not serious and the system still functioned. Brian called me back the following day and had me flip the circuit breakers and when re-energized, the whole system booted up normally. I greatly appreciate the quick response to my problem on this long holiday weekend. I am glad I choose an American Standard air system and glad I has it installed by Dana's."
- Jonathan H.
Zone Control System Repair in Port Orchard, WA, 98366
"Professional Service for sure!"
- David P.
Heat Pump Maintenance in Bremerton, WA, 98310
"We were thrilled with Brian's work and customer service. He worked on our heat pump on the hottest day in history so we could stay cool. We're grateful and telling everyone about Dana's. Thanks!"
- Erika L.
Heat Pump Repair in Kingston, WA, 98340
"Brian O did a fantastic job in diagnosing the problem & making the repairs to our heat pump. His expertise is appreciated. Thank you Brian."
- Mary B.
Air Conditioner Maintenance in Poulsbo, WA, 99370
"Brian was very thorough and diagnosed the problem with ease. Recalibrated the thermostat and now it works great"
- Bruce R.
Electrical Installation - Replacement in Port Orchard, WA, 98366
"Wonderful job. Very efficient and speedy."
- Theresa A.
Air Conditioner Maintenance in Bremerton, WA, 98312
"Timely, efficient, personable. Brian has serviced my home now for both heater and air conditioning and the quality as well as professionalism are top notch. Very happy with this company."
- Stephen T.
Heat Pump Maintenance in Bainbridge Island, WA, 98392
"Brian was great. We always use Dana's Heating and Cooling."
- Mark C.
Gas Furnace Maintenance in Bremerton, WA, 98312
"Always great service. Brian has been here a few times for maintenance and is always courteous and knowledgeable if I have questions. Thank you!!"
- Cindy H.