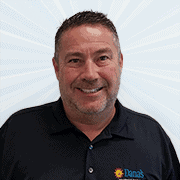 Roger
Heat Pump Installation in Port Orchard, WA, 98366
"I had a new heat pump and air handler installed on Feb 22. I had many questions about its operation, the thermostat, and the meaning of the static air pressure readings. I have bought a digital manometer to try and improve air flow through my duct work. I have already written to American Standard twice and they referred me back to the installer. I also encouraged PSE to show the Amps on the new smart meters they are installing. Roger was very helpful and made some good suggestions as to how I could improve my system."
- Jonathan H.
Heat Pump Installation - Replacement in Poulsbo, WA, 98370
"Roger was very nice and took time to explain everything and go over the paperwork."
- Shelley W.
Air Conditioner Installation - Replacement in Silverdale, WA, 98383
"Roger called and asked it was ok to come early. He showed up and was very professional, he asked questions, I asked questions, took pictures, some measurements, did a walk around the home, did an energy assessment , talked about what AC and furnace units would be required. Wrote out and explained the estimate on the spot.Very quick and through."
- Tom N.
Water Heater Installation - Replacement in Poulsbo, WA, 98370
"Roger came out quickly & at the expected time. His proposal was a fair cost for the required equipment and removal of the fire damaged equipment. He coordinated the soonest removal and a later reinstallation as needed by the restoration team (post-fire in the garage). His installation team did quick work and left the work area clean of excess materials. This is the second installation of a tankless water heater by them. In both cases, I would recommend them to anyone needed a new tankless hot water heater."
- Michael M.