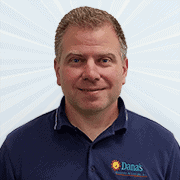 Daniel
Gas Furnace Maintenance in Port Orchard, WA, 98367
"Daniel was very thorough,courteous and professional!"
- Debbie H.
Heat Pump Maintenance in Poulsbo, WA, 98370
"Daniel was great. We've been using Dana's for over 15 years and I realize things change – we used to get 2 service visits a year, went down to 1; they also used to be able to give us a closer time as to when the tech would be out but this time I called the office just to find out if they had any idea as to when the tech might arrive (due any time after 12 pm; I called about 1:30 pm) but was told they had no idea. Then all of a sudden, he showed up a little after 3 pm but no one called; he was surprised as he thought the office had contacted us – guess miscommunication between main office and techs, but he was great. He did a thorough job and was very polite. Not giving 5 stars only because no one bothered to let us know he was on his way."
- Patty H.
Air Conditioner Maintenance in Kingston, WA, 98342
"Daniel was amazing! He is very well versed in his field!"
- Brad R.
Duct Cleaning Maintenance in Poulsbo, WA, 98392
"Daniel was very personable, polite, efficient and competent. He let me know when he was on his way and showed up promptly."
- Jackie O.
Heat Pump Installation - Replacement in Port Orchard, WA, 98367
"I am very pleased with the estimate and installation of my American Standard heat pump. Everyone involved was friendly, fast and efficient. I look forward to many years of great service. Thank you all. Dave"
- Dave B.
Electric Furnace Repair in Port Orchard, WA, 98367
"We had no heat coming through our vents – just cool air. I called late in the afternoon and Dan arrived the next morning. He was very nice and professional and rewired the furnace so we could at least get 50% of our heat. He ordered the parts we need and said they would be here the first part of next week. I really appreciate having someone come out so quickly."
- Elaine G.