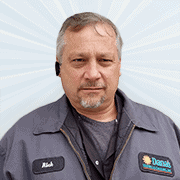 Rick
Heat Pump Repair in Port Orchard, WA, 98366
"Very professional, explains what he's doing, informative, very efficient. Well done!"
- Bob M.
Gas Furnace Maintenance in Tacoma, WA, 98467
"We had both our gas furnace and heat pump serviced by Dana's heating. Rick was on time and knew exactly what needed to be done. He answered all of our questions. We have had Dana's service our furnace and heat pump for years. Rick is a prime example of why we keep going back to them."
- David H.
Heat Pump Maintenance in Port Orchard, WA, 98367
"Rick, of Dana's Heating was very professional, very nice and very helpful. I come in to this house not knowing about my heating system, and he took the time to show me what he was doing, why it's important,and how to better understand it. He was courteous, and let me know he was on his way. He is very knowledgeable and answered all my questions. I feel a lot better about everything because of Rick. Thanks Dana's, for having such a great standard of knowledge and service!"
- Katie D.
Oil Furnace Repair in Port Orchard, WA, 98366
"Experienced electrical surge to house that fried the furnace among other electrical devices. This happened at 10:30am (1/6/21) Puget Sound Electric responded and fixed external problem by 12:30pm. Assessing damage I noticed the furnace had no power at all. I called the office personnel who were very helpful and put the call out for a tech ASAP. Rick showed up at 2:10pm troubleshot and fixed problem by 3. Very proficient and professional. I'm very happy that we have heat. It was an expensive fix, but I get it. This stuff is not cheap. Thanks again."
- Joel C.
Heat Pump Repair in Port Orchard, WA, 98367
"Both technicians were professional, informative concerning the problem that was found, and discussed the repair and solution. I appreciate that. I have always enjoyed Dana's service. Thanks!"
- Dewayne P.
Oil Furnace Repair in Tacoma, WA, 98407
"Great service and great guy."
- John M.
Gas Furnace Repair in Gig Harbor, WA, 98332
"Rick communicated as planned before arrival, once at the house Rick carried out his checks on the furnace found the fault quickly, repaired the fault then carried a number of additional checks to make sure all was well with the furnace.
I have been using Dana's Heating for many years and will continue to do so."
- Alan W.
Heat Pump Maintenance in Port Orchard, WA, 98359
- Ricky M.
Heat Pump Maintenance in Port Orchard, WA 98366
"Great, excellent work. Want him back next year for service."
- William Q.
Gas Furnace Maintenance in Port Orchard, WA 98366
"Rick was very professional, he was on time and was very efficient. I would recommend Dana's to everybody."
- Donald E.