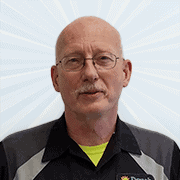 Mike
Heat Pump Installation - Replacement in Port Orchard, WA, 98366
"I have been working on this 1970 house for the past 7 years. Much work had been done in preparation for the installation of a new electric air handler and heat pump (replacing an oil furnace). I knew that I wanted an American Standard system and one installed by Dana's due to the reputation and reputed quality of each. I was not disappointed. I am very pleased with the quality of the workmanship and attention to detail of the installation. Dustin led his crew well and directed his apprentices how to best accomplish their tasks and have pride in the job they were doing. The finished installation of the air handler, as well as the refrigeration lines, was beautifully done and Dustin's sheet metal work was as good as any Boeing product. Dakota and Mike also did an excellent job at laying out the electric lines, inside and out. The end product were electric lines which were both efficient in there use of space and pleasing in appearance to the eye. I am writing this review after five days of use of my new American Standard system and I am very pleased with its performance, quietness, and so far, relatively low consumption of kilowatts. Thank you very much for your fine work and to the full Dana's Crew. TAM9 Variable speed Air Handler and AS 4A6L6048A Heat Pump"
- Jonathan H.
Oil Furnace Repair in Bainbridge Island, WA, 98110
"We deeply appreciate the excellent service we had today. Mike was so knowledgeable and helpful. We are so glad to have our heat again. The repairs will hopefully get us through the winter few for some years to come. Dana's has always been just the best. Thanks to Mike and your entire team!"
- Robert and Carolyn M.
Gas Furnace Maintenance in Gig Harbor, WA, 98335
"Very efficient; personable. Helpful with gas furnace and gas water heater maintenance. Very pleased with Dana's as usual!"
- Holly S.
Heat Pump Maintenance in Lakebay, WA, 98349
"Mike has been to our house twice now. First time for a repair and last one for annual maintenance. Both times he was friendly and professional. Extremely thorough and honest. For our repair he found a loose connection and fixed it. Showed me where the problem was and how he was going to repair it. For maintenance he went over all the components, checked to see if they were in range, then cleaned everything-even the moss he found growing in the outside unit! Again he went over everything with me and gave me advise on how to prolong life of unit (hint: replace filters often). Totally trust Mike and Dana and will only use them."
- Richard M.
Heat Pump Maintenance in Silverdale, WA, 98480
"Mike performed a very detailed system inspection to verify the system was functioning properly."
- Gary T.
Ductless Mini-Split Maintenance in Poulsbo, WA, 98370
"Not sure if my technician was Mike or Mike H. So please correct my review record. Mike was very thorough and answered all of my questions In a clear way. When he left I felt that the system had been given a really good look which renewed my confidence in repairs and initial installation done by another party. I had water damage and mold to deal with last year."
- Jane D.
Heat Pump Repair in Port Orchard, WA, 98367
"On time and quickly found problem and repaired in same trip"
- Chuck S.
Heat Pump Maintenance in Bainbridge Island, WA, 98110
"You have two Mikes, so I hope I have the right Mike. He was knowledgeable, efficient, and thorough! Very thankful for him!"
- Katherine B.
Gas Furnace Repair in Bremerton, WA, 98311
"Technicians identified the part that was leaking immediately and performed all necessary checks after repair to ensure there were no other leaks present. They also answered all of my questions to my satisfaction. Thank you for a job well done."
- David O.
Air Conditioner Repair in Silverdale, WA, 98383
"Mike found a loose wire in our thermostat and fixed it quickly. Everything works great!"
- Sam S.